Download and save the msi file
Ensure Visio is closed before installing this software
Run the msi file
The software should now be installed in Visio
Start Visio, the addon will be installed within Visio
Check that there should be a new Buttons on the ribbon
This software is digitally-signed. Normally it should just install. In some cases (when there is a new signing certificate for example), you may encounter an installation issue. In this case, please right-click on the file and select "Properties". At the bottom of the dialog box will be this message as shown to the right. Ensure "Unblock" is selected.
Screencast
First, click the "Download" button to download the installer on the utilities page.

Your browser may ask if you want to save the file. Save it into your Downloads folder. This is how it looks in Google Crome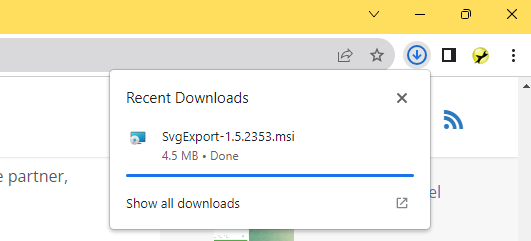 Ensure Visio is closed. If Visio is running then the installation will ask you to close it.

Run the installation. In Windows Explorer (or other way of accessing your downloads) find the downloaded file (.msi) and double-click it

The installation will start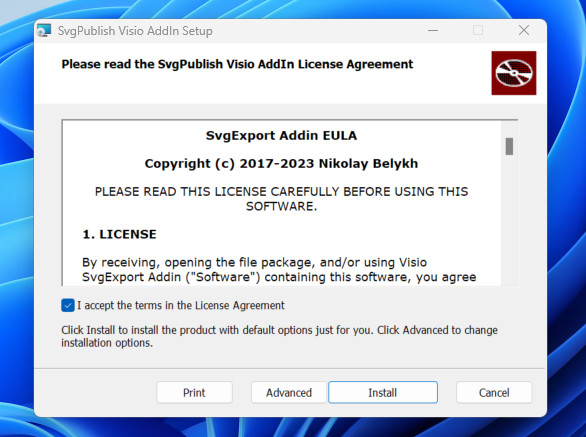 Click "I accpt the license terms" to continue.

Here you have a choice:

If you click "Install" (default), the application will be installed for the current user only. The other users of this computer (if there are any) will not be able to use it. The application will be installed in your personal folder (not to program files).
If you click "Avanced", you can choose to install the application for all users of the computer, and choose the target folder. For administrative silent install (all users in the companly), please refer to additional article. If you are installing for all users, then you may be presented with UAC control prompt.

There should run the progress bar, and installation finishes
Now start Visio. You may be asked if you want to add the SvgExport addon customization. Note that the box should say that the publisher is verified. Click Install.
The SvgPublish ribbon should appear on your Visio screen, and you are good to go!
Admin installation (all users)
If you are installing the tool as Administrator in the organization, using a group policy or some other tool, you may need to run silent installation using command line, and specify KEY in the command line, so that it's automatically installed on the target computers in the organization. The MSI is a standard Windows Installer package, so it can be installed using common tools. I would recommend to use a command line like this:
> msiexec /qn /i SvgExport-1.5.xxx.msi  ALLUSERS=1 LICENSE_KEY="your license key"