This post briefly explains how to bind Visio diagram, exported as HTML to some external live web-service.
It's based on the HTML/SVG export extension.
If you want the exported diagram to be connected to some live data,  you'll need to connect to some live service (in this example, we consider a REST service). In the following posts, I'll discuss binding a diagram to a SharePoint list using JSOM / REST.
So, let's take map of Europe and show temperature by coloring countries, with colder colors indicating colder temperature! You can check the result in DEMO section (click the picture to navigate):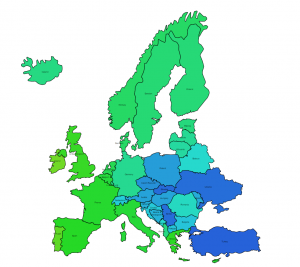 Here is basically the sequence of steps how to build it: