Here is the updated version (1.0.6). See basic info in the previous post, where the tool was introduced.
Added:
Now supports multi-select.
You can select several shapes, and change a ShapeSheet cell for all of them at once, so you don't need to edit it for each shape individuality.
Highlight of changed values.
The values which were changed since last updated are now highlighted. This allows easy visualization of changed values, thus allowing you to understand what effect has a change of one cell to others, or what cells differ between different shapes.
Filters
Full text search.
You can search for text in a ShapeSheet cell, or for a cell itself, this will allow you to get to the cell/value you are looking for much faster: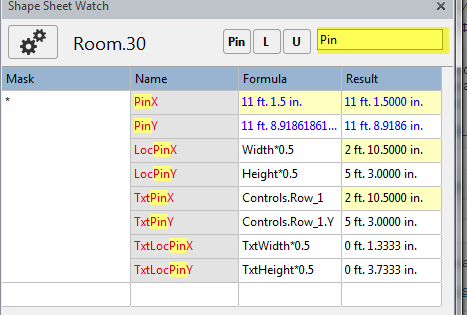 Show only local values
Allows you to filter only values which were defined in shape, and not in the template. These values are normally shown BLUE in the built-in ShapeSheet, and most probably these need to be edited more often.
Show only highlighted cells
Well, it does exactly that – shows only changed cells. The button is next to the first one =)
Fix shape (PIN)
Allows to turn OFF "following" the shape on selection. if shape sheet is not "Pinned" (default) , then the window shows the data of the selection. If you click now the "Pin" button then window will be bound to the current selection, and will not follow the subsequent changes of selection. By fixing selection of a shape, you can monitor it's changes when you change different shapes.