This is Visio map of Russia (year 2012). The map is in Visio VSD format. Includes a stencil with all regions as separate shapes and "assemled" sample drawing. The map was built to work nicely with the standard Visio "maps" functionality (like World Map), and additionally includes items which are specific to regions in Russia (region ISO code, capital, etc) as shape data. Download and details follow.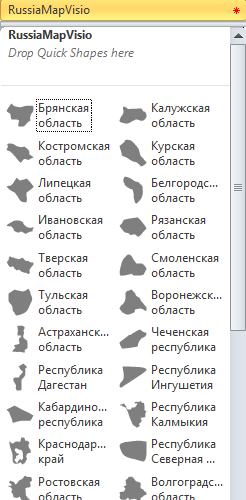 Each region shape in a stencil is supplied with shape-data which includes region name (in English and in Russian), region ID according to the region code, police region code, capital, and some other potentially useful fields. You can use these data fields to bind to your own data, or use them for Visio data graphics.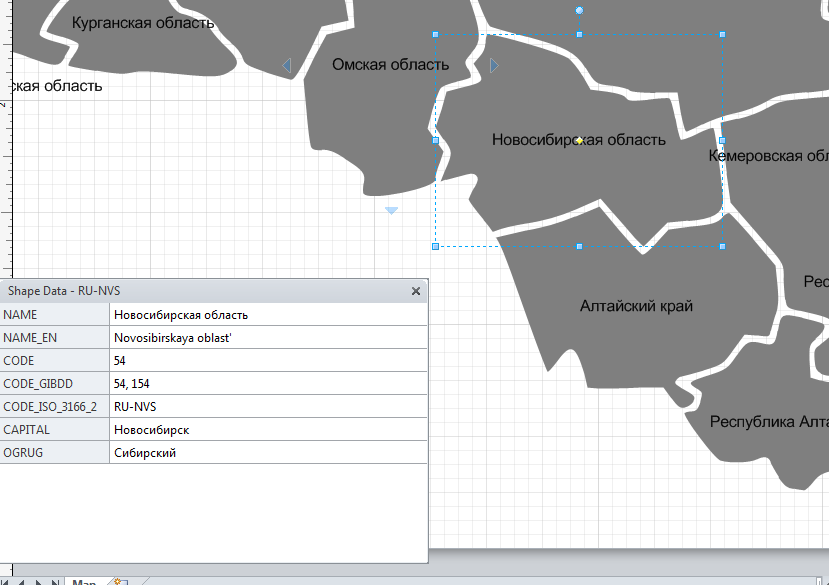 The map was designed to work nicely with Visio built-in "maps" addon. That is, functions like "Arrange To Page.." and "Arrange To Shape…" should work properly. To work properly with this addon, each shape was equipped with correct User.ArrangeData, which defines the position of the shape on the map, and with corresponding calls to "BR" built-in addon. In fact, this was the most tricky part of it =)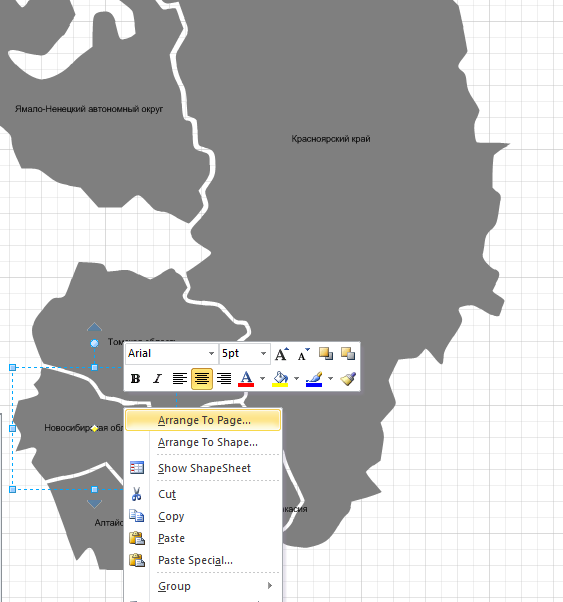 The stencil should work with all versions of Visio (2003 – 2013).
The map includes following regions (EN):
Altayskiy Kray, Amurskaya obl., Arkhangel'skaya obl., Astrakhanskaya obl., Belgorodskaya obl., Bryanskaya obl., Vladimirskaya obl., Volgogradskaya obl., Vologodskaya obl., Voronezhskaya obl., Evreyskaya avtonomnaja obl., Zabaykalskiy Kray, Ivanovskaya obl., Irkutskaya obl., Kabardino-Balkarskaya Respublika, Kaliningradskaya obl., Kaluzhskaya obl., Kamchatskiy Kray, Karachaevo-Cherkesskaya Respublika, Kemerovskaya obl., Kirovskaya obl., Kostromskaya obl., Krasnodarskiy Kray, Krasnoyarskiy Kray, Kurganskaya obl., Kurskaya obl., Leningradskaya obl., Lipeckaya obl., Magadanskaya obl., Moskva, Moskovskaya obl., Murmanskaya obl., Neneckiy autonomnyy okrug, Nizhegorodskaja obl., Novgorodskaya obl., Novosibirskaya obl., Omskaya obl., Orenburgskaya obl., Orlovskaya obl., Penzenskaya obl., Permskiy Kray, Primorskiy Kray, Pskovskaya obl., Adygeya, Respublika, Altay, Respublika, Bashkortostan, Respublika, Buryatia, Respublika, Dagestan, Respublika, Ingushskaya Respublika, Kalmykia, Respublika, Karelia, Respublika, Komi, Respublika, Mariy El, Respublika, Mordovia, Respublika, Sakha, Respublika (Yakutiya), Severnaya Osetia, Respublika (Alania), Tatarstan, Respublika, Tyva, Respublika (Tuva), Khakassiya, Respublika, Rostovskaya obl., Rjazanskaya obl., Samarskaya obl., Saint-Peterburg, Saratovskaya obl., Sakhalinskaya obl., Sverdlovskaya obl., Smolenskaya obl., Stavropol'siyy Kray, Tambovskaya obl., Tverskaya obl., Tomskaya obl., Tul'skaya obl., Tyumenskaya obl., Udmurtskaya Respublika, Ul'ianovskaya obl., Khabarovskiy Kray, Khanty-Mansiyskiy avtonomnyy okrug – Yugra, Chelyabinskaya obl., Chechenskaya Respublika, Chuvashskaya Respublika, Chukotskiy avtonomnyy okrug, Yamalo-Neneckiy avtonomnyy okrug, Yaroslavskaya obl.,
The shapes were ported to Visio from the Wikipedia SVG
Download:
RussiaMapVisio_04_2012.zip (914.3 KiB)